Prostate Cancer Financial Assistance
Out-of-pocket costs for prostate cancer vary depending on your insurance. Trust Help Hope Live for fundraising.
Prostate cancer is cancer that develops in the prostate gland. It occurs when abnormal cells in the prostate gland grow and form a tumor. Symptoms may include pain and difficulty while urinating and pain in the lower back, hips, or thighs. Early detection and treatment can improve the chances of a successful recovery.
There are common out-of-pocket costs associated with treating prostate cancer that, without financial assistance, can be overwhelming for some patients. On this page, you'll learn which prostate cancer expenses to anticipate and how to find financial help. 
The Cost of a Prostate Cancer Diagnosis
A prostate cancer diagnosis can easily lead to what the National Cancer Institute calls financial toxicity: the issues that patients and families face due to the high cost of cancer-related medical care. Insurance never covers every cost, and without assistance, cancer patients may find themselves struggling to cover essential medical and related expenses. One study found that the average cost of prostate cancer treatments is about $2,800 per month after the diagnosis.
If you are facing this kind of financial hardship, please know that you are not alone. 
Common Out-of-Pocket Costs for Prostate Cancer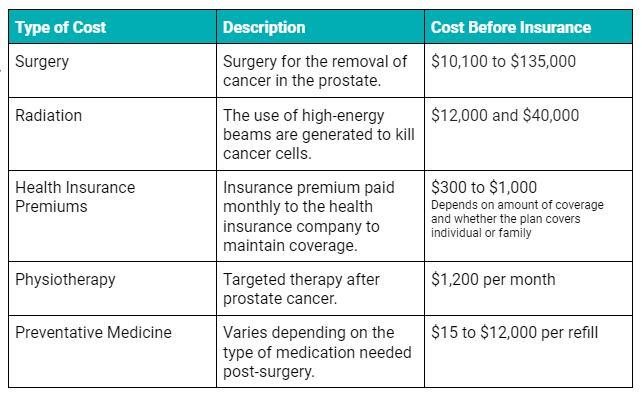 Surgery:

The costs associated with surgery for prostate cancer can vary greatly depending on the size of the affected area and the placement of the tumor. The average price for prostate surgery is about $35,000, which is still nearly double the current

Medicare reimbursement

. 

Radiation:

According to the

American Cancer Society

, it costs $17,474 initially and about $25,097 over five years.

Health insurance premiums:

Depending on your insurance plan, these expenses vary significantly.

Physical therapy:

Physiotherapy intervention

is not always used during the rehabitual stage following treatment, but it can include support across multiple areas, including daily tasks and routine exercises. 

Preventative medicine:

Depending on the type of prostate cancer and the medications needed post-treatment, the price will vary significantly. Here is a list of medications and their expected

costs

. 
The Importance of Early Detection of Prostate Cancer
Early detection of prostate cancer increases the chances of successful treatment and recovery. When prostate cancer is detected early, it allows for more treatment options, which can help preserve the quality of life.
Men should discuss their risk for prostate cancer with their healthcare provider and consider screening tests such as a prostate-specific antigen (PSA) blood test or a digital rectal exam (DRE) to detect any signs of cancer. It is important to note that the decision to undergo screening should be made after a careful discussion of the potential benefits and risks with a healthcare provider.
Does Medicare Pay for Prostate Cancer Treatment?
While Medicare does pay for prostate cancer screening and some aspects of prostate cancer treatment, there are many out-of-pocket costs for prostate cancer that you may incur regardless of your insurance coverage or insurance premium.
Does Insurance Cover Proton Therapy for Prostate Cancer?
Proton beam radiation therapy is an alternative to traditional radiation that may reduce the chance of damage to healthy tissues near the tumor for some patients and reduce pain. Since the prescribed treatment of proton therapy is more costly than traditional radiation, many health insurance companies do not cover the cost. As a result, prostate cancer patients and families interested in this form of therapy may be responsible for the associated out-of-pocket costs of prostate cancer treatment.

Treating Prostate Cancer with No Insurance
Dealing with prostate cancer without health insurance can add stress to an already stressful situation. Common out-of-pocket costs for prostate cancer treatment, such as chemotherapy can be extremely expensive.
Fighting Prostate Cancer Takes a Toll
Battling this disease comes at a high cost. It may cost your energy, your plans, and some of your ability to help yourself and others – and while you're paying that price, you realize it's only part of your battle: you're asked to pay financially as well. The true cost of cancer is physical, social, emotional, and financial.
No matter your health insurance status, out-of-pocket costs for prostate cancer can add up and take a significant toll. Let's take a look at how to best handle prostate cancer treatment costs.
Finding Prostate Cancer Financial Assistance
Expenses associated with prostate cancer procedures, rehabilitation and therapy, and long-term health care will vary depending on the situation. Regardless of the specifics, the expenses can add up quickly for patients and their families. Finding financial support for prostate cancer treatments can be a burden.
If you need assistance with prostate cancer expenses, our nonprofit is here to help.
As your community-based fundraising source, you can work with Help Hope Live to access greater financial support for prostate cancer treatments. Together, we can raise funds to assist with unmet medical expenses and related costs from living with prostate cancer.
Turn to Help Hope Live for Prostate Cancer Financial Assistance
Fundraising can help with the out-of-pocket cost of prostate cancer. Through community-based medical fundraising, our nonprofit organization is dedicated to helping you raise funds for the medical expenses associated with surgery or ongoing support for prostate cancer. 
Here are just a few expenses you can fundraise for: 
Health insurance premiums, deductibles, and co-payments

Medications

Transportation for treatment

Air ambulance for emergency visits

Relocation or moving expenses for treatment

Temporary housing due to relocation

Mileage, tolls, and parking fees for medical visits

Lodging expenses for patient and support person

Hospital telephone and television privileges

Uninsured cancer-related procedures

Home modification related to the diagnosis

Home health care services

Physical therapy and rehabilitation
How Does Fundraising For Prostate Cancer Work?
The fundraising process with our nonprofit starts with a few simple steps:
Complete a short campaign request at

helphopelive.org/get-started/apply

We will contact you if community-based fundraising is a possible option

You'll be paired with a Client Services Coordinator

Your Coordinator will provide you with one-on-one fundraising help, including personalized materials and guidance on rallying your community, sharing your story on social media, reaching out to the press, planning in-person or virtual fundraising events, and much more
How Is Help Hope Live Different from GoFundMe?
Help Hope Live differs from GoFundMe by:
Verifying your medical need for complete donor confidence

Enabling donations that are tax deductible

Providing one-on-one fundraising help

Managing all funds raised to protect your state-based benefits (funds raised are not considered personal income/assets to you)

Paying bills directly allows you to focus on treatment and recovery
We are a nonprofit organization with more than 4 decades of fundraising experience and a 4-star Charity Navigator rating.
Does Community-Based Fundraising Work?
Here are some Help Hope Live medical fundraising success stories:

"He is still in remission."
At 28 years old, Patrick Kent experienced aches and pains that led to an acute lymphocytic leukemia diagnosis. Fundraising became an essential part of his family's financial approach to assisting with needs ranging from specialized treatments to inpatient care and hospitalizations. In 2020, his family commemorated the one-year anniversary of his diagnosis with a renewed sense of hope.
"It is an amazing demonstration of the TRUE meaning of a loving community"
Leo Patnode sustained a brain stem stroke following surgery during a business trip. His family engaged Help Hope Live to fundraise for multiple stroke-related medical costs, including inpatient and at-home physical therapy and 24/7 home caregiving. As of 2021, Leo's campaign had surpassed $90,000 raised through community fundraisers.
Expertise. Secure. Compassion. Dependable. Trust.
These are the five most common words from clients and team members in a 2020 survey that describe our trusted medical fundraising nonprofit. 94% of our clients would recommend us as a medical fundraising resource.
MOST COMMON PROSTATE CANCER EXPENSES
Surgery
Radiation
Pharmacological therapy
Cancer treatments
Transplant
Ready to Get Started?
If you choose to fundraise with our nonprofit, here's how the process will look:
1. APPLY for assistance
2. YOU'LL BE PAIRED with a Client Services Coordinator
3. YOUR COORDINATOR will provide you with one-on-one fundraising help, including personalized fundraising materials and guidance on how to rally your community, share your story on social media, reach out to the press, plan in-person or virtual fundraising events, and more.
Need Other Financial Help Options?
For alternatives to fundraising, you can find information on a variety of cancer financial assistance options. Please view our Catastrophic Illness Resource Directory for insight into sources of direct financial aid, support groups, and other resources for cancer patients and their families.