To kick off your new year of fundraising with Help Hope Live, we've got a few reminders to share plus a fundraising tip – but let's start with two hope-filled stories from our community.
Community Spotlight: Viviane MacDonald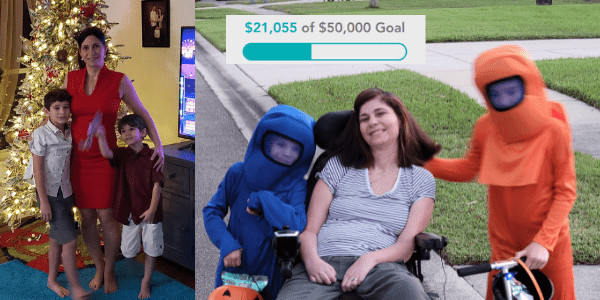 Our client Viviane MacDonald is a loving wife and mother living with a devastating ALS diagnosis. We helped Vivi's family reach out to local media to share her urgent need for a wheelchair van—and the community stepped forward to shower Vivi with love.
Following local news stories and interviews with Vivi and her husband, Brian, donations in her honor increased from $1,400 to over $14,000. The interviews reached millions of viewers and readers, giving Vivi and Brian a critical platform through which to share the hardships and hope of life with ALS with the community.
"It gives us a new sense of hope and something good, something to look forward to."
Community Spotlight: Dion Fink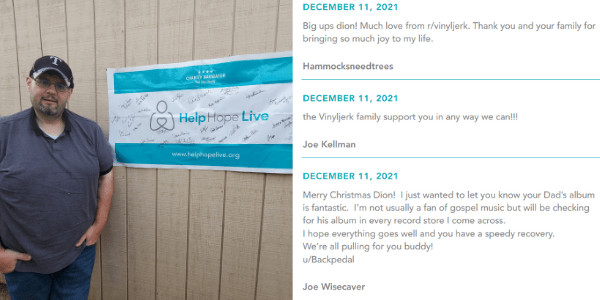 Community support can come from the most unexpected places. Just ask Robert Dion Fink, a Help Hope Live client awaiting a life-changing kidney transplant.
In December, a Reddit community filled with 65,000 vinyl music fans realized that Dion's father, the late Gary Fink, was someone they knew: a little-known but dearly beloved gospel singer. The community found Dion's fundraising campaign through a Help Hope Live press release and made the connection.
Immediately, they rallied to provide hope and support.
Dozens of donations poured in from Redditers, increasing his fundraising total more than 1000%, and positive messages from the community flooded Dion's Guestbook.
Heads Up: Website Downtime Rescheduled
We're making website improvements! This Saturday (1/29) at 10 p.m. EST our website will be offline for up to six hours for scheduled maintenance.
If you have any questions, please submit them to support@helphopelive.org.
Reminder: Mail Delays
Staffing issues and other concerns at post offices across the country are leading to delivery delays. Our Finance team is working diligently to process mail as we receive it—we appreciate your patience as we continue to navigate these delays.
Reminder: Fund Requests
Do you know how to submit questions about your Fund Requests?
Instead of contacting your Client Services Coordinator, the fastest way to get an answer is to send an email directly to our Finance team using FundRequest@helphopelive.org.
Keep in mind Fund Requests can take up to eight business days to process upon receipt.
If you would like to check the status of a Fund Request, please wait at least five business days before you follow up with our Finance team.
A few additional tips for you:
Email is the fastest way to ask questions AND submit your Fund Requests, but we do accept Fund Requests via mail and fax, too
Always include clear documentation with your request:
Photos – send the largest file size possible
Medical bill – send all pages, front and back
For more Fund Request tips, watch this Hope Talk video on YouTube from our Finance department.
Fundraising Tip: YouTube Videos
Did you know that Help Hope Live can upload videos to YouTube for you? Your videos will be hosted on the Help Hope Live YouTube channel—we'll even add a direct link to your Campaign Page for donations: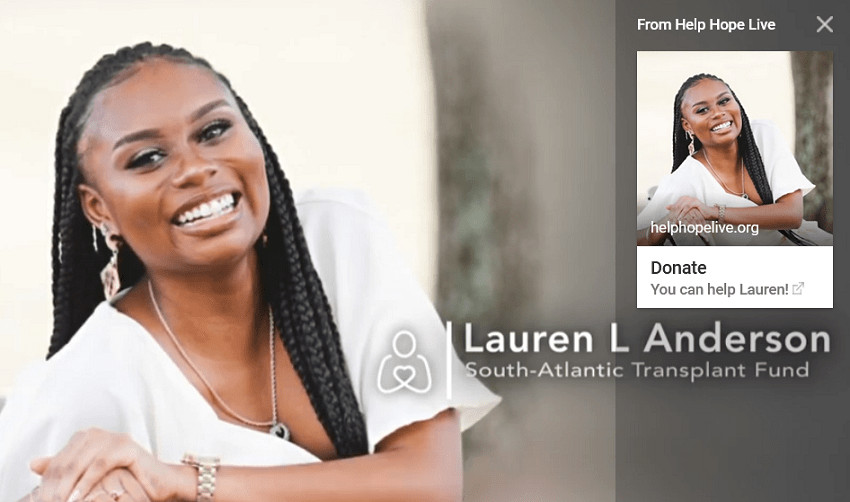 Simply email your Coordinator to request this service!
New! In-Depth Info Pages
If you'd like to easily share information about the costs associated with a certain diagnosis with your community, or if you plan to refer Help Hope Live to a friend, you'll value our new in-depth info cost pages.
Each page includes estimated costs, common types of out-of-pocket expenses, fundraising information, and additional financial resources associated with the diagnosis.
Take a look, and feel free to share:
Kidney Transplant Costs and Assistance
Single Lung Transplant Costs and Assistance
Double Lung Transplant Costs and Assistance
Pancreas Transplant Costs and Assistance
Heart Transplant Costs and Assistance
Liver Transplant Costs and Assistance
Spinal Cord Injury Costs and Assistance
Traumatic Brain Injury Costs and Assistance
Multiple Sclerosis Costs and Assistance
Cancer Costs and Assistance
COVID-19 Costs and Assistance
Stroke Costs and Assistance
…and many more to come!
Help, Hope, and So Much More
Thank you for making Help Hope Live a trusted part of your fundraising journey this year. Reach out and let us know what's bringing you hope this year and how our team can better serve you.
Written by Help Hope Live