Donate Life Month may be coming to an end, but we believe the gift of life is one that should be celebrated monthly, daily, and hourly. Transplants transform lives and reshape futures—and these lifesaving procedures wouldn't be possible without a simple yet selfless decision from an organ donor.
Below, 26+ quotes about organ donation from Help Hope Live clients, celebrities, and others celebrate our collective awe and gratitude at the impact of organ donors. Stay tuned after the quotes for an extremely personal final installment of Touched by Transplant from one of our own team members.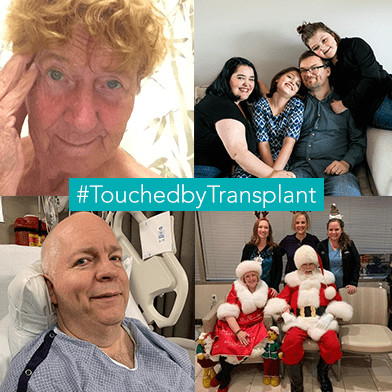 "There is one thing I know about my donor: no matter what they did while they were here on Earth, they died a hero. They saved my life, and that's a debt I can never repay." –John Wilson
"The decision to become a donor can save up to eight lives and enhance many more—men, women, and children who depend on the generosity and sacrifice of others. I encourage individuals of all ages and backgrounds to consider this unique opportunity to help those in need and to discuss this choice with friends and family." -Barack Obama
"You are a piece of the puzzle of someone else's life. You may never know where you fit, but others will fill the holes in their lives with pieces of you." -Bonnie Arbon
"Wherever a man turns, he can find someone who needs him." -Albert Schweitzer
"I never used to pay that much attention to organ donation, but I'm tremendously glad for it: it turned out that I was one of the ones in need. I hope my donor's family will be blessed a thousand times for their sacrifice." –Karl Black
"You can't live a perfect day without doing something for someone who will never be able to repay you." -John Wooden
"I spent 16 months in the hospital. That difficult journey ended with new hope and a new heart beating in my chest. Hope means believing that the best is yet to come…I'm on my way to a new life." –Deryl McKenzie
"The measure of life is not its duration but its donation." -Peter Marshall
"We are thanking God for our organ donor. What gave one family utter despair gave us great joy." -Rach Thurston, wife of Tom Thurston
"There will be a time when all of the pieces will fit together." -Nitya Prakesh
"To me, transplant represents life and hope. Although none of us know when we may lose our life, my husband's transplant gave us hope that we may be able to spend many more years together with each other and our families." -Maxine Billings, wife of Tony Billings
"Act as if what you do will make a difference. It does." -William James
When I think back on my life just four years ago, the circumstances were dire. I wasn't sure if I would still be alive in six months—now, I'm a mommy, all because someone said yes to being an organ donor." –Amanda Washek
"Three other lives were saved that night by my donor, my hero, and I was given a new heart and a new start. My light shines even brighter now." –Renee Houghton
"I would donate whatever anybody would take." -George Clooney
"He feels a duty to honor the gift he has been given, the donor, and the donor's family. He sees life in a whole new perspective now—he will not take for granted one second of his new beginning." -Deborah Curry, wife of Mark Curry
"Service to others is the rent you pay for your room here on Earth." -Muhammad Ali
"When it comes to understanding the transplant journey and discovering the truth about transplantation, open your heart and open your mind. Oh, and put that special designation on your driver's license!" –Nelson Omar Freytes
"Life fractures us all into little pieces. It harms us, but it's how we glue those fractures back together that make us stronger." -Carrie Jones
"I've learned there's power deep down inside yourself, and you can find it when you don't give up on yourself and when you ask for help." -Selena Gomez
"I was 'recalled to life' by this gift from my donor's family. I recently had the joy of connecting with his mother—her son's lungs live in me, and I am grateful every day." –Nancy Kyllingstad
"You know that family is going to be there for you no matter what—my dad gave me a freakin' kidney! But it's also [about] the families that you create outside of your family." -Sarah Hyland
"I have not only been touched by transplant; I have been saved by a transplant. I know that I am one of the lucky ones, and I am forever grateful for this. My brother made the greatest sacrifice to give me the greatest gift. There is no greater gift than donating life." –Jessie Hallowell
"The only gift is a portion of thyself." -Ralph Waldo Emerson
"I am alive due to the generous gift of life from my heroes: organ donors. Words alone cannot express my thanks to anyone and everyone who makes the decision to be an organ and tissue donor. You may never meet the person whose life you have saved, but you will always be a hero for saving a life." –Jason Enyeart
"Have you had a kindness shown?
'Twas not given for thee alone.
Let it travel down the years,
Let it wipe another's tears,
Till in Heaven the deed appears,
Pass it on, pass it on.
Did you hear the loving word?
Like the singing of a bird?
Let its music live and grow,
Let it cheer another's woe,
You have reaped what others sow,
Pass it on, pass it on.
Hold your lighted lamp on high,
Be a star in someone's sky,
He may live who else would die,
Pass it on, pass it on!
-Excerpts from "Have you had a kindness shown?" hymn, Reverend Henry Burton
Touched by Transplant: Terri and Bruce
This year, one of our Help Hope Live staff members was personally impacted by the gift of life.
In February 2020, Terri Carlson from our Finance Department lost her husband, Bruce Carlson, an accomplished professional, dog lover, home DIYer, home chef, golfer, and, above all, exceptionally loving husband and father. "He was a giving person who would always be the first to help anyone in need," explained Terri. "Bruce elected to be an organ donor a long time ago. When we learned from his doctors that he had no chance of survival, my kids and I met with a representative from the Gift of Life Donor Program.
That rep was so compassionate as my kids faced their first real-life adult decisions. We made the decision together, and we gained a sense of comfort knowing that we were honoring Bruce's wishes. We knew that he would live on in others, which gave all of us a sense of purpose within what seemed like a senseless loss."
Terri learned that her family would receive a letter every time Bruce helped someone—some donor families receive notices up to 15 years after the donation takes place.
On April 22, two months after Bruce passed away, Terri received the first letter.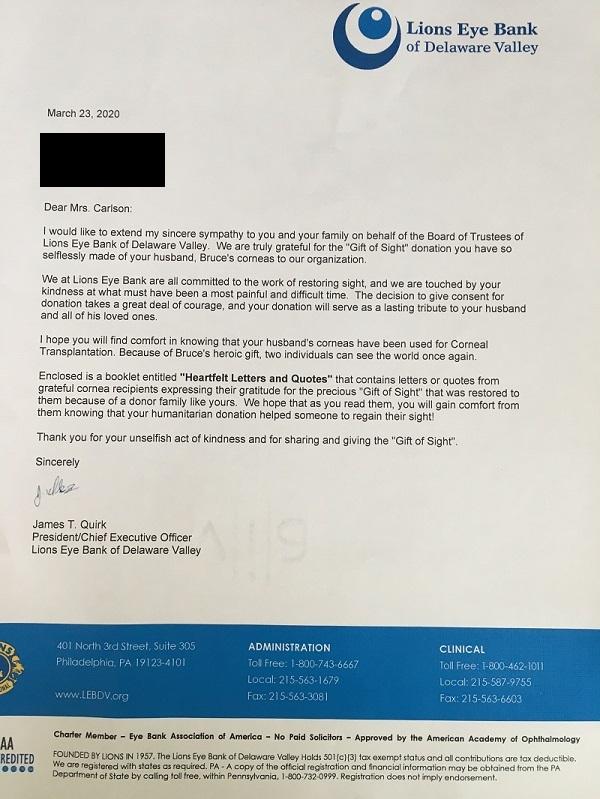 Don't let your celebration of the gift of life end. Look back at all our 2020 Touched by Transplant stories!
Written by Emily Progin